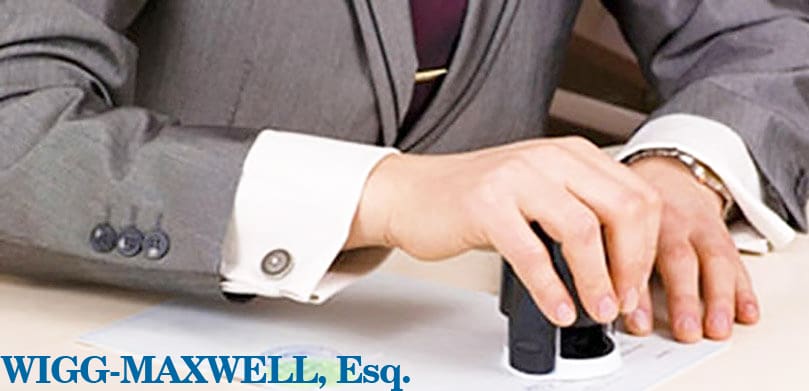 Paul Wigg-Maxwell advises small business (including investor groups, foreign and domestic corporations, for-profit and not-for-profit companies, small business startups, small businesses and entrepreneurs). As a mentor to startups, he works with seed and early-stage companies and startups, helping them refine business, financing and technology strategies to help enable rapid growth.
Mr. Wigg-Maxwell will act as your New Jersey business lawyer (also referred to as corporate lawyer or small business lawyer or transactional attorney) providing the following services:
Choosing the right business form (e.g., limited liability company (LLC), corporation, S corporation, or partnership);
Business formation and dissolution;
Mergers and acquisitions;
Setting up a U.S. subsidiary sales company or entering into distributorship or commission agreements with U.S. sales representatives.
Real estate matters, including leases;
Partnership agreements, joint venture agreements and strategic alliance agreements;
Negotiation and preparation of deal term sheets, LLC operating agreements and shareholder agreements;
Commercial leasing, financings and closings;
NDAs and confidentiality agreements (non-disclosure agreements or confidential business information agreements), non-competition and non-solicitation

agreements;
Internet and technology related agreements and other agreements;
Formation of tax-exempt not-for-profit companies (e.g. 501(c)(3));
Contractual disputes (including collections and enforcement of obligations);
U.S. asset purchase and/or investment (so foreign investors can avoid estate/gift tax, and minimize their income taxes);
and more.
As a transactional attorney, Paul Wigg-Maxwell strives to clearly set forth the commitments and understandings of the parties in their documents.
When transactions fail, Mr. Wigg-Maxwell finds the right strategy for unwinding a deal through work-outs, buy-outs and other strategies. Mr. Wigg-Maxwell is skilled at identifying the "must haves" for each party and establishing what may and may not be traded.
Representative Transactions:
Sale of Assets of a Refinery Simulator Design Company
Sale of Stock of a Hospital Software Business
Sale of Assets of a Contract Vitamin Manufacturer
Sale of Accounting Practice
Cross Border Joint Venture Agreement for Chicken Waste Processing
Wind-Up (liquidation) of a 16 Retail Store Group.
Main
Business Attorney

Mr. Wigg-Maxwell advises small business. He will act as your business lawyer in forming your business, handling the legal issues that arise in operating a business (employment issues; regulatory issues; financings; contracts; and disputes); and in handling business succession and sales.