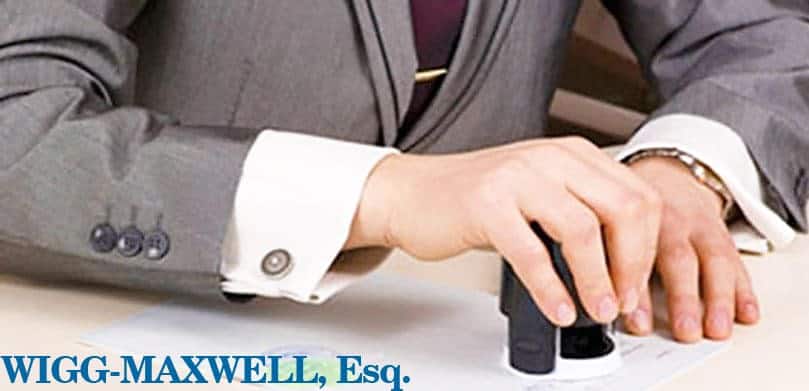 Paul Wigg-Maxwell advises small business (including investor groups, foreign and domestic corporations, for-profit and not-for-profit companies, small business startups, small businesses and entrepreneurs). As a mentor to startups, he works with seed and early-stage companies and startups, helping them refine business, financing and technology strategies to help enable rapid growth.
Mr. Wigg-Maxwell will act as your New Jersey business lawyer (also referred to as corporate lawyer or small business lawyer or transactional attorney) providing the following services:
Choosing the right business form (e.g., limited liability company (LLC), corporation, S corporation, or partnership);
Business formation and dissolution;
Mergers and acquisitions;
Setting up a U.S. subsidiary sales company or entering into distributorship or commission agreements with U.S. sales representatives.
Real estate matters, including leases;
Partnership agreements, joint venture agreements and strategic alliance agreements;
Negotiation and preparation of deal term sheets, LLC operating agreements and shareholder agreements;
Commercial leasing, financings and closings;
NDAs and confidentiality agreements (non-disclosure agreements or confidential business information agreements), non-competition and non-solicitation
agreements;
Internet and technology related agreements and other agreements;
Formation of tax-exempt not-for-profit companies (e.g. 501(c)(3));
Contractual disputes (including collections and enforcement of obligations);
U.S. asset purchase and/or investment (so foreign investors can avoid estate/gift tax, and minimize their income taxes);
and more.
As a transactional attorney, Paul Wigg-Maxwell strives to clearly set forth the commitments and understandings of the parties in their documents.
When transactions fail, Mr. Wigg-Maxwell finds the right strategy for unwinding a deal through work-outs, buy-outs and other strategies. Mr. Wigg-Maxwell is skilled at identifying the "must haves" for each party and establishing what may and may not be traded.
Representative Transactions:
Sale of Assets of a Refinery Simulator Design Company
Sale of Stock of a Hospital Software Business
Sale of Assets of a Contract Vitamin Manufacturer
Sale of Accounting Practice
Cross Border Joint Venture Agreement for Chicken Waste Processing
Wind-Up (liquidation) of a 16 Retail Store Group.
Main
Business Attorney

Mr. Wigg-Maxwell advises small business. He will act as your business lawyer in forming your business, handling the legal issues that arise in operating a business (employment issues; regulatory issues; financings; contracts; and disputes); and in handling business succession and sales.
Very good experience. I had some uncommon and large financial situations abroad as a US Citizen. I just wanted to make sure I am going about it legally and wisely. I am a business executive (Harvard B. School), having interacted with many top lawyers worldwide, and working with Paul was a pleasure and a wise choice. Beyond helping me professionally to solidify a winning strategy through his sound knowledge and experience, the interaction was exceptionally forthcoming and pleasant. I would recommend Paul without any hesitation!

Paul is an excellent attorney for small business owners like myself. He will make the appropriate research and make sure that the documents I have are all in working order and official. Paul always responds to phone my calls immediately, and he works fast whenever I need to have documents prepared quickly. His knowledge has helped me steer my business in the right direction and his advice is always on point and concise. I've had the pleasure of using Paul's services for nearly a decade. During this time I had help with drafting and reviewing the following: several lease contracts, employee contracts, confidentiality and non-disclosure agreements, new client contract/liability waivers, US copyright electronic registrations, independent contractor agreements, website disclosure language, video release forms, and business registrations with the state. Having Paul as an attorney and being able to reach out to him whenever I have an emergency makes me more confident to run my business and I know that if I have a legal problem Paul will be there to help me.

Cool guy, extremely nice and knows his stuff.

Took the time to listen, ask good questions, and provide good thoughts during initial phone call. Highly recommend giving him a call.

Mr. Wigg-Maxwell helped me out with a complicated international inheritance tax question. He was quick to respond with a knowledgeable answer. I would happily bring any future tax issues I have to Mr. Wigg-Maxwell for resolution.