Grow your tax firm with less risk and waste of valuable time.
International Tax Reporting Introduction
8 LIVE WEB Seminars CPA CPE
Is your company prepared to take care of your customer's international tax problems? Otherwise, you might be exposing your company to your customers and fraud allegations to penalties which could transcend the value of the assets.
Introduction to International Taxes Seminar – Earn 2 Credits – Continuing Professional Education (CPE)
Enhance your value to a client or employer with international ties by providing advice on international taxation. This program gives you an introduction (or a refresher) on the basics of international taxation.
Objectives
This seminar will enable CPAs and other tax professionals to become more valuable to their corporations or clients by becoming knowledgeable about international taxation. Participants will gain a basic understanding of how to:
Determine if an alien individual is resident or nonresident for tax purposes;
Find the source for different types of income and transactions; and
Use tax treaties to benefit clients and employers.
Emphasis:
Determining days of Substantial U.S. Presence for Aliens
Exceptions to U.S. source treatment of certain types of income.
Resolving conflict between U.S. law and Treaty law.
Claiming available exceptions and benefits under residence, source and treaty law.
You will also learn practical tips on:
Getting an ITIN for a nonresident investor in the U.S.
Avoiding U.S. withholding tax on inbound investments.
Complying with U.S. Foreign Withholding Tax forms and reporting.
FBAR and FACTA compliance issues.
We packed this seminar with timely topics to improve your professional tax service's value.
Keep your company on top with International tax law understanding produced from years of experience employing international treaties and rulings to real life instances. Changes to the international tax legislation impacts a fantastic proportion of companies, transactions and people lives.  Register today to start guarding your customers and your company.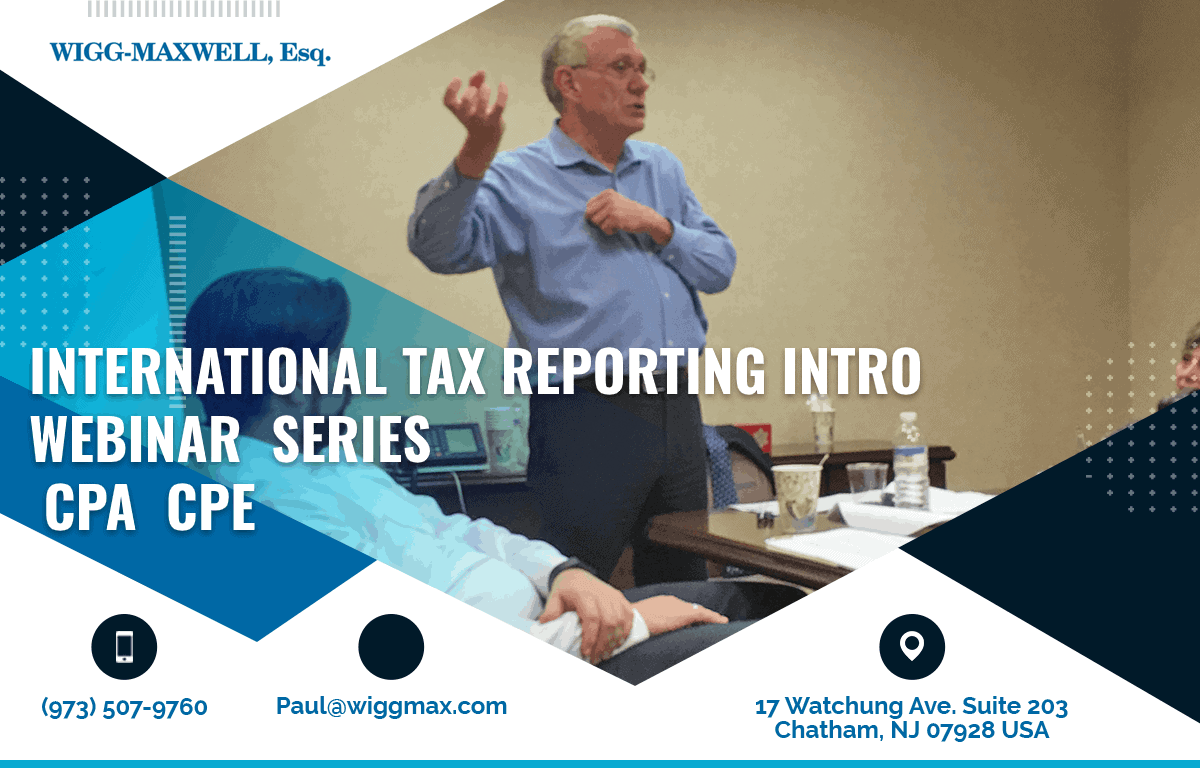 Earn 2 CPE CLE Credits
This program has been approved by the Board on Continuing Legal Education of the Supreme Court of New Jersey for two (2) hours of total CLE credit. Of these, none (0) qualify as hours of credit for ethics/professionalism, and none (0) qualify as hours of credit toward certification in civil trial law, criminal trial law, workers compensation law and/or matrimonial law.
Prepare your team to diagnose your client's cross-border tax compliance issues.
Who Should Attend
Accountants and Attorneys who want a general update and overview on U.S. tax reporting requirements. Senior associates and professionals who assist clients with tax implications of their global business, investments and financial assets or bank accounts.
Very good experience. I had some uncommon and large financial situations abroad as a US Citizen. I just wanted to make sure I am going about it legally and wisely. I am a business executive (Harvard B. School), having interacted with many top lawyers worldwide, and working with Paul was a pleasure and a wise choice. Beyond helping me professionally to solidify a winning strategy through his sound knowledge and experience, the interaction was exceptionally forthcoming and pleasant. I would recommend Paul without any hesitation!

Paul is an excellent attorney for small business owners like myself. He will make the appropriate research and make sure that the documents I have are all in working order and official. Paul always responds to phone my calls immediately, and he works fast whenever I need to have documents prepared quickly. His knowledge has helped me steer my business in the right direction and his advice is always on point and concise. I've had the pleasure of using Paul's services for nearly a decade. During this time I had help with drafting and reviewing the following: several lease contracts, employee contracts, confidentiality and non-disclosure agreements, new client contract/liability waivers, US copyright electronic registrations, independent contractor agreements, website disclosure language, video release forms, and business registrations with the state. Having Paul as an attorney and being able to reach out to him whenever I have an emergency makes me more confident to run my business and I know that if I have a legal problem Paul will be there to help me.

Cool guy, extremely nice and knows his stuff.

Took the time to listen, ask good questions, and provide good thoughts during initial phone call. Highly recommend giving him a call.

Mr. Wigg-Maxwell helped me out with a complicated international inheritance tax question. He was quick to respond with a knowledgeable answer. I would happily bring any future tax issues I have to Mr. Wigg-Maxwell for resolution.

The firm of Paul D. Wigg-Maxwell, Attorney, serves the New Jersey/New York Metro Area including, Morris, Union, Essex, Somerset and Hunterdon Counties in New Jersey and in New York, Manhattan and the other boroughs of New York City.
Located at the border of Chatham and Summit, the offices of Paul D. Wigg-Maxwell are a short distance from the towns of New Providence, Millburn, Livingston, Florham Park, Madison, Berkeley Heights, Morristown, Gillette, Maplewood and Warren – New Jersey.
#NJCPA #CPE  #CLE #Section965 #repatriation #wiggmaxtax @Wigg_Maxwell #FATCA #taxreform #GILTI #TCJA #FBAR  #TransitionTax #Repatriation #NYCPA #PACPA #CTCPA
International Tax Seminar for Continuing Professional Education and Continued Legal Education.